Branch level Elocution Contest-2019
Topics
Clean and Green India – Role of students.
Common defects in the financial statements of corporate entities.
Significant Changes in ITR Forms 2019: Towards increased disclosure requirements.
Artificial Intelligence: Adding unemployment woes?
iTwin.
Start-up India: New industry in highly dynamic environment.
Independent Director – A crown of thorns.
---
CA Student Conference – 27th and 28th July, 2019
---
SEMINAR ON GST FOR ARTICLE CLERKS ON FILLING OF ANNUAL GST RETURN(PRACTICAL STUDY OF FORM 9 AND 9C) ON 26TH APRIL 2019 AT ICAI BHAWAN CHANDIGARH FROM 3 P.M. TO 7 P.M. (FEES:RS 50/-)
REGARDS
CA.BRIJ BHUSHAN SHARMA CHAIRMAN &TEAM CHD ICAI
---
ATTENDANCE MARKING SYSTEM THROUGH BIOMETRIC DEVICES
This is to inform you all that attendance marking system through biometric device is started by insitute for students enrolled for the courses of ITT,Orientation,MCS,and Advance ITT ongoing at our branch which is mandatory for students.
Regards
CA. Brij Bhushan Sharma, Chairman & Team Chd ICAI
---
SGM NOTICE
Notice calling for special general meeting of the branch
---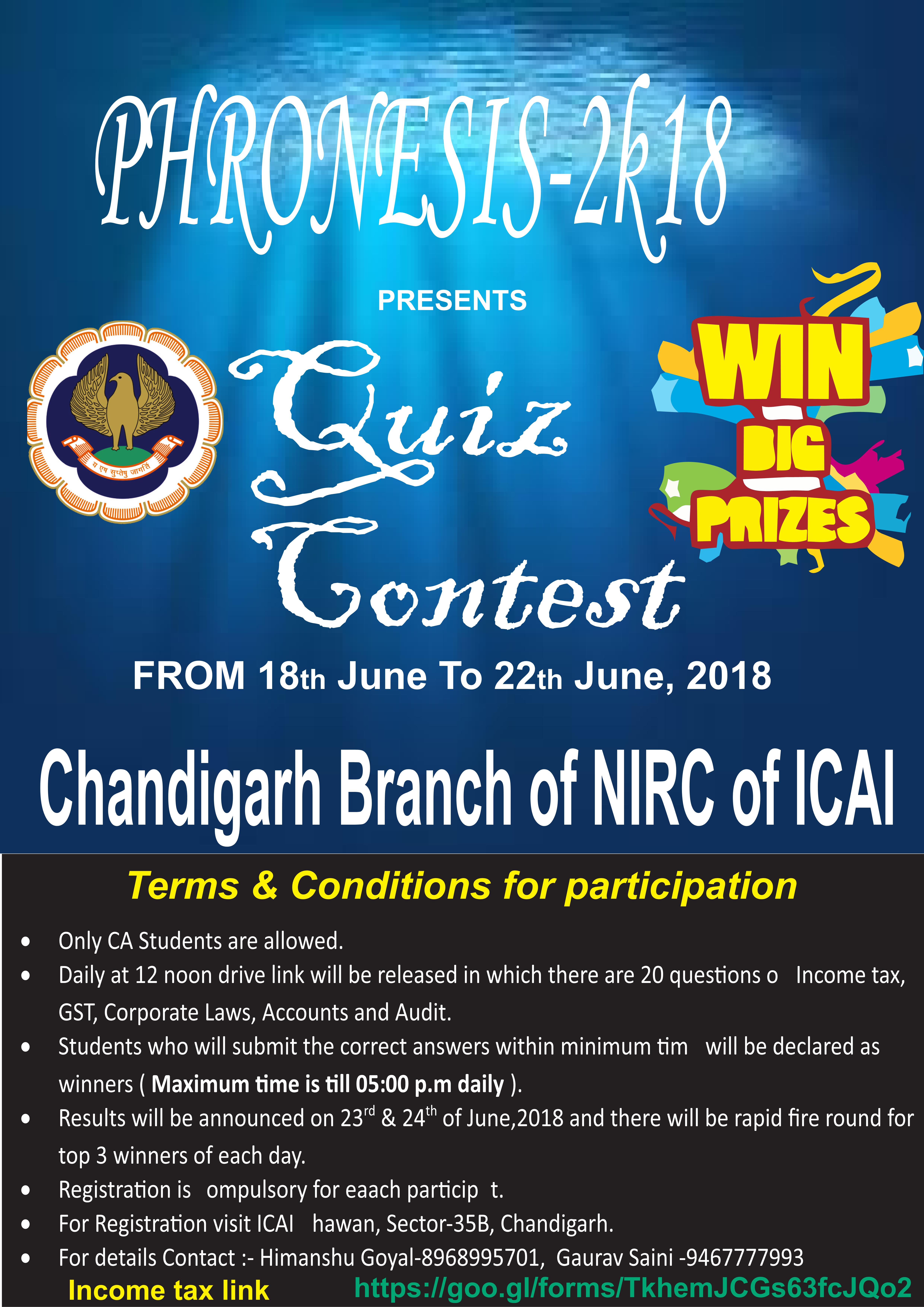 https://goo.gl/forms/TkhemJCGs63fcJQo2
---
EXPRESSION OF INTEREST FOR EMPANELMENT OF ADVOCATES
The Institute of Chartered Accountants of India (ICAI) proposes to empanel Advocates for representing ICAI and its organs before Supreme Court/all High Courts/District Courts of Mumbai, Chennai, Kolkata, Delhi and Kanpur. A public notice in this regard has been released on 31st May, 2018. The details and guidelines regarding the empanelment are available on the Institute's website: http://www.icai.org. at the link : https://www.icai.org/new_post.html?post_id=14812&c_id=219 Last date for submission of online applications is 14th June, 2018.
---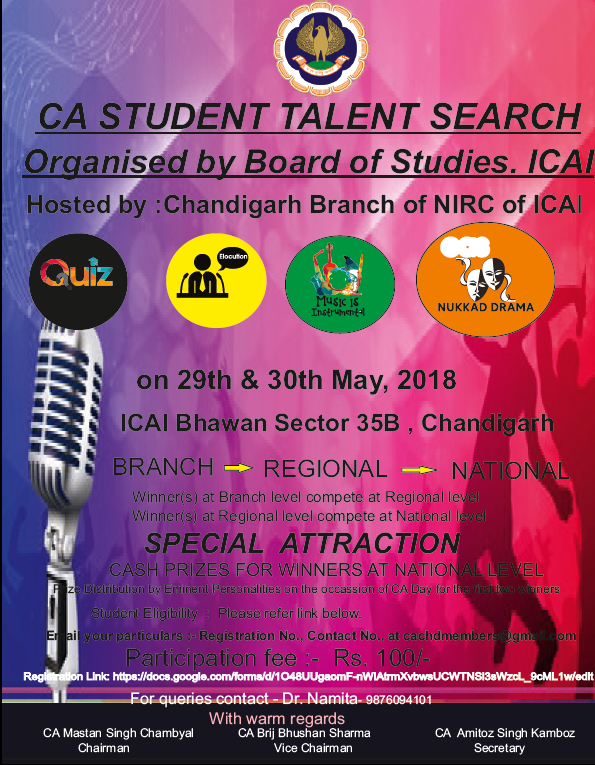 Branch Level Elocution Contest, 2018-19
• New ITR Forms - Towards deterring tax avoidance?
• Place of supply under GST.
• Letter of Undertaking (LOU) whether a boon or bane for banking system in India.
• Data privacy over internet.
• Impact of automation on employment opportunities in India.
• How far revenue is important to assess the financial performance of a company?
• Class Action Suit - Remedy for Investors.
• Role of Bank Auditors in Present Scenario.

---
CERTIFICATE COURSE ON CONCURRENT AUDIT OF BANKS

Registrations are restricted on first come first serve basis. All are requested to kindly note the same and rush for the Registration to avoid disappointment!

DATEs

27th, 28th, 29th April, 2018, 4th, 5th and 6th May, 2018

CPE HOURS

30

TIME

09:00 am to 05.00 pm

FEES

FEES DETAILS

Non-metro Cities

Online payment link

Registration Form

For Members of ICAI born before 01.01.1988

Rs. 14,750 (Rs. 12,500 per participant +18% GST)

For members of ICAI born on or after 01.01.1988

Rs. 11,800 (Rs. 10,000 per participant +18% GST

VENUE

ICAI BHAWAN, Sector-35B, Chandigarh, Ph: 0172-5067756

ORGANISOR

CA. Mastan Singh Chambyal, Chairman

Chandigarh Branch of NIRC of ICAI

CA. Brij Bhushan Sharma,

Vice-Chairman

Chandigarh Branch of NIRC of ICAI

CA. Amitoz Singh Kamboj,

Secretary

Chandigarh Branch of NIRC of ICAI

CA. Pushpinder Kumar Duggal

Executive Member

Chandigarh Branch of NIRC of ICAI

CA. Naveen Soni

Executive Member

Chandigarh Branch of NIRC of ICAI

CA. Sahil Singla

Executive Member

Chandigarh Branch of NIRC of ICAI

CA. Sourav Goyal

Executive Member

Chandigarh Branch of NIRC of ICAI

CA. Pramod Kumar Vats

Executive Member

Chandigarh Branch of NIRC of ICAI
---
IMPORTANT ANNOUNCEMENT

Extension of last date for payment of Annual Membership & COP Fee
The Council at its 371st meeting held on 18th to 20th December, 2017 and 19th January, 2018 respectively noted the difficulties faced by the members in payment of membership fee and certificate of practice fee for the year 2017-18 due to inter-alia revision in membership fee, levy of GST and technical glitches relating to online payment portal and decided that, as one time exception for the year 2017-18, the last date for payment of Membership fee and Certificate of Practice fee for the year 2017-18 be extended upto 15th March, 2018 (instead of 30th September, 2017). 
The effect of this decision will be that there will be no removal of membership for the current year 2017-18 provided members pay the fee along with 18% GST on or before 15th March 2018. 
Members may also kindly note that they are required to pay only the fees and not any restoration fee and not to file any other statutory form(s) like Form 9 or Form 101, as the case may be.  Further, if Membership/COP fees have already been paid in advance, due amount is to be calculated and differentials, if any, also needs to be paid by the prescribed date.  
All those members whose Membership/Certificate of Practice have been removed  for non-payment of membership fee for 2017-18 w.e.f. 1st October 2017 are now requested to utilise this golden opportunity and pay their due amount (revised) fee for the current financial year till 15th March, 2018.
It is further clarified that earlier letter of Regional Offices of ICAI to its Members informing about removal of your name from the Register of Members w.e.f. 1-10-2017 and cancellation of Certificate of Practice (wherever applicable) now stands withdrawn.
---