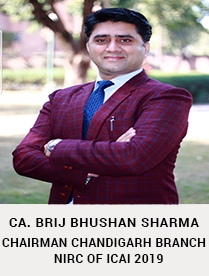 Respected Members,
Entering into my fourth year as an Executive of the Chandigarh branch of NIRC of ICAI, I am overwhelmed with a feeling of professional brotherhood, team work, togetherness, trust & confidence that engulfed me by virtue of my wonderful term of 2016-19. Having been elected for another term, I feel honored & privileged to be handed over the baton of responsibility and opportunity to represent you as the Chairman of Chandigarh branch of NIRC of ICAI. Teamwork is the fuel that allows common people to attain uncommon results. No individual can win against a team in a game by himself. I have learnt this in a very good way during my association in the executive committee at the branch, representing you as Secretary and Vice Chairman of the managing committee.I owe it to the blessings, support & vision of the senior members of the profession, my predecessors and you all. It has been inculcated in me the need to repay to the profession for the respect, it has given me. I look forward to your support, participation, motivation, encouragement and guidance for accomplishment of the common objective of welfare of branch, profession and fraternity.

During the term 2016-19, we made a sincere effort to make branch members friendly, participative and interactive via hosting knowledge enhancing seminars and workshops. It needs to be carried forward with the same zeal and vigor. The new team at the branch is in saddle and is perfect blend of youthful energy & freshness on one side and tested experience on the other. Our efforts, no matter how big or how good, have to be accompanied by the active participation of us all, the team at branch and the members in the field.
Personality is to a man what perfume is to a flower. We need to spice up our professional acumen with an improved personality. In our profession, personality coupled with knowledge plays an integral part in our professional growth & advancement. The branch plans to blend the professional enhancement with personality development programs in the coming times.
What I have learned in the first three years in the executive, is that it marks a big step in a person's development when he comes to realize that his colleagues can be relied upon to help him do a better job than he can do alone. I have a strong feeling that we, as a team have the ability to offer a lot to the members and the profession. I request for generous suggestions and feedback from the members, making my job enjoyable & easier. Members, please come forward with all your suggestions so that we can together make the branch - by the members & for the members in true sense. Professions are measured by the degree of diversity attained and the degree of unity retained. Let us unite to add to the dignity, glory and zenith of our profession.
"If you want to go fast, go alone. If you want to go far, go together"
"Coming together is a beginning; keeping together is progress; working together is success."